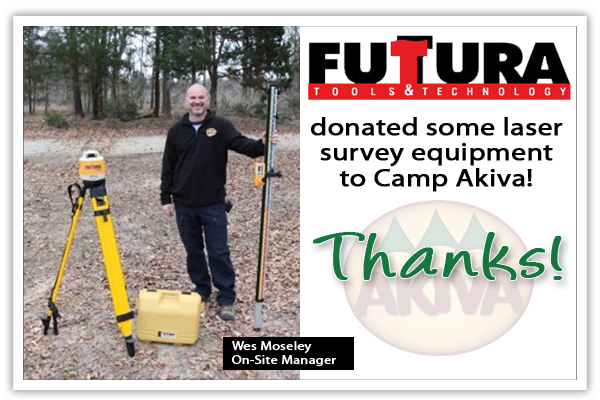 When you are moving dirt and building new buildings, ponds and lakes at a camp, you need access to surveying equipment or you have to pay someone to come out and perform this service. So when our friends at Futtura donated some laser surveying equipment to Camp Akiva, we were thrilled.
We asked Wes Mosely, On-Site Manager, for his thoughts on this generous donation:
The level will be used to check elevations throughout all of our construction process. It can be set up in one location by one person and be used on multiple buildings and/or the ponds. It's a great addition for our expansion process. The equipment will save us about a thousand dollars. Futtura gave Camp Akiva an awesome donation of a tool that will save us time and money.

It's hard to know when I first meet people who I'm talking to when expressing a need, but God's always at work. A few days later we received a Futtura Laser Level! ~Wes
Futtura stands as an established distributor for premier instrument and equipment manufacturers.
Thanks Futtura!! We encourage you to visit them online: www.futturaus.com/.   Of course, you can see progress and contribute to our Building Hope Capital Campaign at CampAkiva.org.