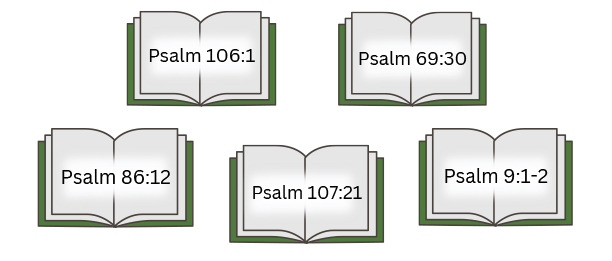 This Thanksgiving season, we want to take the time to be intentional about giving thanks for God and all that He does for us. Please choose one (or two, or all) of the Psalms listed and focus on God's word. These verses can serve as prompts for our prayers of gratitude any day, any time, in our lives.
Psalm 106: 1 –  Praise the Lord!  Give thanks to the Lord, for he is good! His faithful love endures forever.
Psalm 69:30 – Then I will praise God's name with singing, and I will honor him with thanksgiving.
Psalm 86:12 – With all my heart I will praise you, O Lord my God.  I will give glory to your name forever.
Psalm 107:21 – Let them praise the Lord for his great love and for the wonderful things he has done for them.
Psalm 9:1-2 – I will praise you, Lord, with all my heart;  I will tell of all the marvelous things you have done.  I will be filled with joy because of you. 
I will sing praises to your name, O Most High.
JOIN OUR PRAYER LIST FOR 2023 !
Our Father's Children exists to provide HOPE to children of abuse and neglect in Texas, ages 6-18, in week-long camp settings and weekend retreats. We recruit volunteers from a variety of cities, churches and organizations who have a heart for offering these kids hope in Jesus Christ. Whether as a volunteer or donor (or both), we would love to have you join us in providing hope to these kids!